WALLPAPER and London interior designer, Nina Campbell. I first came across her wallpaper in a Bella Notte ad several years ago and have not stopped following her or Bella Notte.
Isn't the Perroquet wallpaper to die for? I love how the single hanging sheet ties in all of the Bella Notte colorful linens.
Here is an up close look at this romantic-sweet-girlie-vintage print. If you like the print as much as I do... check out NinaCampbell.com for this pattern on china, trays and fabric. You can even get it as wallpaper on your phone.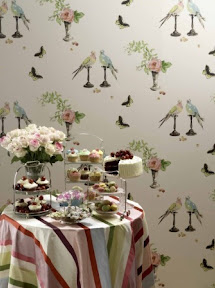 My decorating goal this year is to paper at least one wall. Do you like this bright trend?
I know this is a lot but its Nina Campbell...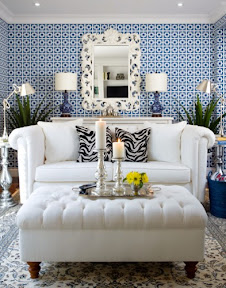 Love the bright graphic paper with simple furniture.
High in the kitchen.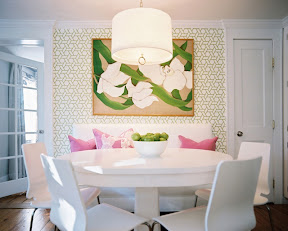 I love the lattice walls as an alternative to wallpaper. How fab would this be painted in a contrasting color?
Want just a skosh of wallpaper in a room.... Try this...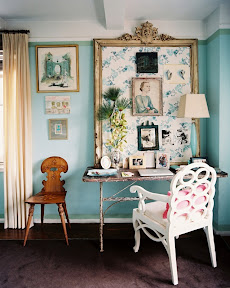 The above five images are from lonnymag.com. If you have not visited this site... pay a visit soon... It's a fabulous online glossy!
I bring this blog to you from my Christmas present from the hubs... He thought I should start blogging from an IPad. It's taken a while to get used to but I love it! I apologize for not being able to link you to sites by just one click... but hopefully the app I'm using will update soon!
Happy New Year and welcome back!
See you soon,
Alli