the talented
Hillary Thomas
. Based out of LA, Hillary has made a name for herself in the interior design world. She achieves a whimsical traditional feel with her play on color and pattern. Something I envy!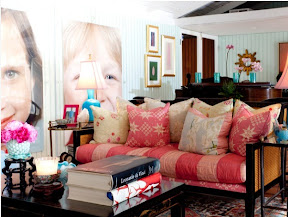 Oh how my mouth is watering! Loves to Hillary. Doesn't this make you crave more color? Here are some places to start: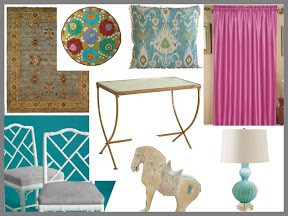 Clockwise from top left. The Dolci Rug at
Ballard Designs
. The Company C IKEBANA circle pillow at
Layla Grace
. The Drainsfield and Ross Arsenic Ikat pillow at
The Well Appointed House
. Pink Silk Curtains from
Tots 2 Teens Zone
. Arteriors Paulette Lamp in Aqua at
Layla Grace
. The Elle Decor Horse at
Kohls
. Johnathan Adler Chippendale Chairs at
Horchow
. Arteriors Kensington Iron Mirror Tapered Side Table at
Layla Grace
.
See you soon, Alli.
- Posted using BlogPress from my iPad