Z
ebras.
Happy Friday blog friends! What are you up to this weekend? We will be crafting all weekend at our house. DIY paper flowers here we come...
In the meantime, here is something fun to look at:
Starting clockwise from the top left: Orange hide rug by
. (comes in any color)
green zebra pillow. Yellow and green zebra pillows by
. Colorful zebra coasters and blue zebra carpet from
. Yellow waste basket and tissue cover available at
.
I love this look in a nursery.
Or if you are daring...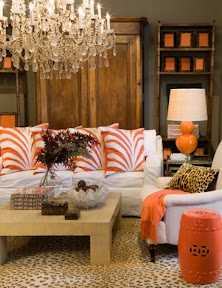 What do you think about this cheetah? I'll bring you more of this look next week. Enjoy your weekend.
See you soon, Alli.